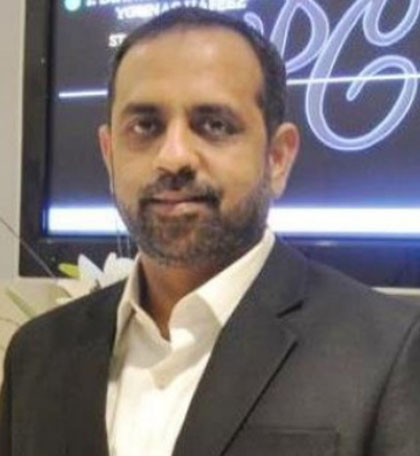 Dr Shoab Khan is of Prof Computer and Software Engineering NUST College of EME.
Title
Emerging Trend of Augmenting Intelligence in ICT Systems
Abstract
My talk shall list a number of studies, where each selects artificial intelligence (AI) or autonomous intelligence at the top of emerging technology trends for year 2019. AI is believed to have USD 15.7 trillion impact on global economy by year 2030. The talk shall introduce AI and allied technologies that are shaping our environment and life. A number of examples from my personal profile of adding intelligence in ICT systems shall be presented. I shall define the knowledge economy and shall list strategies of different countries to be a leader in KE. We as Pakistan shall also strive to get a decent place on the world KE map. This requires our academician and researchers to focus on meaningful work in autonomous intelligence for brining efficiency in our current systems and then using this IP to help Pakistan's transition towards KE. As part of the Prime Minister Taskforce on KE, I shall also highlight a number of funding opportunities that can be availed for adding intelligence in defined national challenges. The talk shall also present Pakistan's national strategy for AI and the framework we are evolving to ensure it addresses the complete ecosystem for unavoidable digital transformation of Pakistan.
Biography
Dr Shoab Khan is of Prof Computer and Software Engineering NUST College of EME. He received his PhD from Georgia Institute of Technology USA in 1995. While in US he got extensive experience of working in several top notch technology companies like Scientific Atlanta, Picture Tel and Cisco System.
 In 1999 Dr Shoab Khan founded an exciting startup named Communication Enabling Technology (CET) from drawing room of his house in Pakistan. The startup raised US $17 Million in venture funding in 2000. CET had its head office in Irvine CA and development office in Islamabad. CET with Dr Khan as chief architect designed world highest density media processor chip for VoIP media gateways. For his innovate technology work, Dr Khan has 5 US patents to his credit.
Dr Khan has contributed 350+ international publications and a world class textbook on Digital Design of Signal Processing System published by John Wiley & Sons and followed in many universities across the globe. He is a professor of Computer Engineering at NUST College of EME. He has supervised / co-supervised 20+ PhD and 120+ MS theses to completion.
He is also founding member (Chancellor / CEO) of CASE and CARE. CASE is a primer engineering and management school operating as a federally chartered degree granting institute, whereas CARE, under his leadership, has risen to be one of the most profound high technology engineering organizations in Pakistan. For his eminent industrial and academic profile, Dr Shoab has been awarded with numerous honors and awards. These include Tamgh-e-Imtiaz Pakistan, HEC best researcher award and NCR National Excellence Award in Engineering Education.
He is currently serving as a member of Prime Minister Taskforces on IT and Telecommunication, Science & Technology and Knowledge Economy, Deputy Chairman of National Computing Education and Accreditation Council (NCEAC) and has served as Chairman Pakistan Software Houses Association (P@SHA) for year 2014-15.